Do you ever get a craving for some good, home cooked, decadent food that just fills you up and leaves you super satisfied? I know in our house we try to eat pretty healthy and lean, but listen, we like to eat. So, when the recipe option for the Cowboy Skillet Pie came up on the screen as an menu choice, we hesitated.
However, we said 'screw it, that looks good!' and we added it to our menu. We are so glad we did because this was so worth the extra carbs!
Why We Love EveryPlate
Now, if you don't recall from previous posts, we use the EveryPlate meal delivery service because it really cuts down our food costs. The hidden gem to this arrangement is that we don't ever have to think of what we are making for dinner.
We pick the card and we cook. It's super easy, especially when we're running around and need an easy weeknight recipe! And, as previously mentioned, my husband is actually the one to hop into the kitchen and whip these dinners up.
Guess what?! He's never had to cook before and is learning everything from the basic forward. These recipe cards are real easy to follow and provide step by step instructions for a perfect dish every time.
This post contains affiliate links. If you click through and make a purchase, I may earn a commission, at no additional cost to you!
We opt for the 3 dinners a week for two adults. It's been working great for us. Our kids are still in the stage where everyone gets their own dinner so we don't feel guilty about leaving them out! ha! They somehow survive off chicken nuggets and pizza. The 3 dinners a week costs us only $30, which is $5 per plate, per night. Not too bad for an easy weeknight dinner!
You can try this out to see if it fits your lifestyle for $10 when you use this discount code: LINDSAYTA and get an automatic $20 off! That's 3 dinners for $10 bucks! Not a bad deal!
Cowboy Style Shepherd's Pie Recipe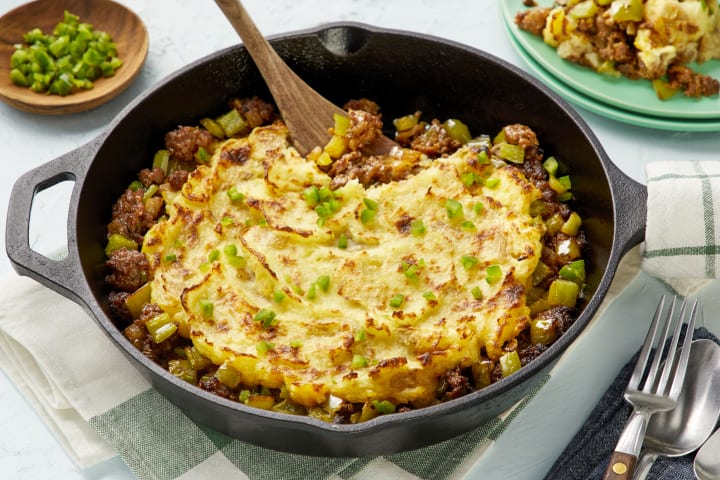 Since we do a lot of gardening and growing our own veggies, I do feel slightly guilty about buying produce. However, when my veggies aren't growing, or out of season, I like that dishes like these provide good, fresh ingredients. If I happen to have a couple of the vegetables from the dish on hand, I like to throw them in too so I can have leftovers!
But honestly, seeing as how we only do it three days a week, it's actually cutting back on my food waste. Because we no longer have to buy things that we'll likely only ever use one time for a random recipe we're trying, we are cutting our grocery bill significantly.
So, right to it we go. You'll love this dish. It's super hearty and really hits that down home spot. Who doesn't love a nice big bowl of mashed potatoes with a hint of heat?!
You can also opt to remove the spicy jalepeno and make it kid friendly. With ground beef and mashed potatoes, if your sly enough you can sneak in those veggies too!
Cowboy Style Shepherd's Pie
Dig into this hearty, stick to your bones, good down home Cowboy Skillet Pie with green peppers and jalepeno. This is a delicious mash up of ground beef, mashed potatoes, fresh vegetables and a little bit of heat. This savory skillet dish is sure to please!
Ingredients
5

small to medium Yukon Gold Potatoes

1

Long Green Pepper

1

small Yellow Onion

2

cloves

Garlic

1

Jalapeño

1/4

lb

Ground Beef

Southwest Spice Seasoning

1

tbsp

Chicken Stock Concentrate

2

tsp

Sour Cream

1

tbsp

Flour

2

tbsp

Butter

Vegetable Oil

1

tbsp

Ketchup

Salt

Pepper
Instructions
Preheat your broiler and set it to high. Next, wash and dry all produce before prepping.

Start Prepping: Chop and dice potatoes into ½-inch cubes. Take the long green pepper and core, seed. Then, slice the onion in half, peel, and dice onion in small cubes. Peel and finely mince garlic. Finely mince jalapeño, removing seeds. If you like more heat, keep some of the seeds in!

Place potatoes in a medium pot with enough salted water to cover by 2 inches. Bring to a boil and cook until very tender, about 12 minutes. Drain and return to pot. Cover to keep warm.

Meanwhile, drizzle a bit of oil in a skillet over medium-high heat. Add the chopped pepper and season with salt and pepper. Cook, stirring occasionally, until lightly browned and softened for about 3-4 minutes. Add onion and season with salt and pepper. Taste as you go as to not over-season. Adjust to your preferences. Cook, stirring, until softened and beginning to brown, 4-5 minutes more. Do not turn up the heat to quicken the cooking process as you may burn the veggies.

Add garlic and as much jalapeño as you'd like (reserving some for garnish) to the pan. Cook, stirring, until fragrant, about 30 seconds. Add beef, seasoning, and a pinch of salt and pepper. Cook, breaking up meat into pieces, until browned and cooked through, about 5 minutes. Add 1 TBSP flour. Cook, stirring to coat, for 1 minute.

Gradually stir in ½ cup water. Add stock concentrate and 1 TBSP ketchup and stir to combine. Simmer until thickened, 1-2 minutes. (Mixture should be the consistency of a very thick chili.) Taste and season with salt and pepper. Remove from heat. (If your pan isn't oven-safe, transfer beef mixture to a baking dish.)

Mash potatoes with 2 TBSP butter, sour cream, and a couple splashes of water (or milk, for a richer experience), as needed, until smooth. Season with salt and pepper. Spread mashed potatoes on top of beef mixture, leaving roughly a 1-inch gap around edge of skillet. Broil until bubbling, about 3 minutes. Sprinkle over as much remaining jalapeño as you'd like (if desired).